Bespoke Furniture
When taking on commissions, I work closely with all of my customers to create pieces of furniture that are true to their vision, initially through discussions and, where possible, visiting the client's house.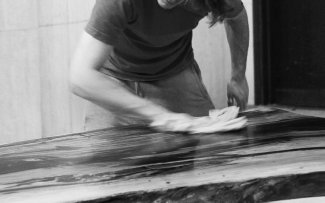 First Stage
A one off design fee is paid, which is refunded on confirmation of order. I then draw up the designs and through conversation the project evolves organically. Once the deposit is paid I source the timber, often in its raw state before the process of kiln drying takes place.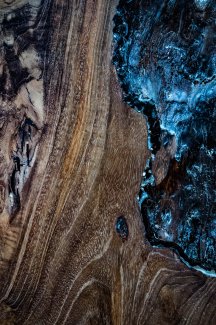 Second Stage
I keep in touch with the client, through photographs, phone calls and visits to the workshop can be arranged to see the piece taking shape and where the final design can be fine-tuned. The result of this partnership will be an individual piece that has come into creation through a journey lead primarily by the inherent character of the materials used and, of course, the vision of the client.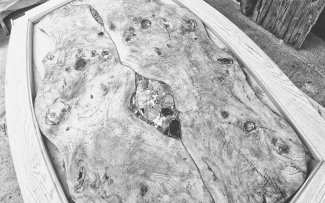 Unique Hand-Crafted Wood
The majority of my work is made to order but a selection can also be seen at my workshop as well as in a small number of shops, galleries and showrooms.
My particular love is tables, I believe the table is an integral part of any home, where all the joys of life are shared and around which generations tell their stories. I source each piece of timber mindfully, feeling and working with it in the knowledge that it is ever evolving, constant and timeless.
I am passionate about creating beautiful, bespoke, contemporary furniture for homes, offices or retail environments.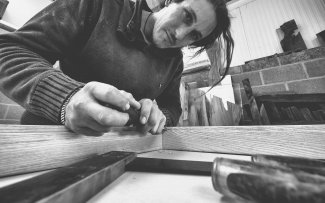 Motivation
My principle motivation behind working with reclaimed wood is to give a noble and characterful object a second life, while maintaining a respect for the natural world and its resources.
What characterises my approach is an interest in the story of the tree, with an open acknowledgement of the imperfections in the wood I cherish and celebrate the history.
Wood Movement — It Just Moves!
Wood is hygroscopic, which means its moisture content (MC) will fluctuate based on the relative humidity (RH) of the surrounding air. As humidity increases, the MC increases, and the wood expands, and as the humidity decreases, MC decreases, and the wood shrinks. This relationship is referred to as Equilibrium Moisture Content (EMC). Wood will expand on warmer days and contract on colder days.
In a sense the wood breathes just like us. Wood will also adjust to the moisture content of your home and its surroundings. You may notice your slab furniture piece move ever so slightly or even develop small cracks or dips, especially in very dry climates. THIS IS NORMAL. Slab furniture cannot be compared to other solid wood furniture pieces. Organic wood furniture will have movement during its life; this is the beauty of natural wood slab furniture.